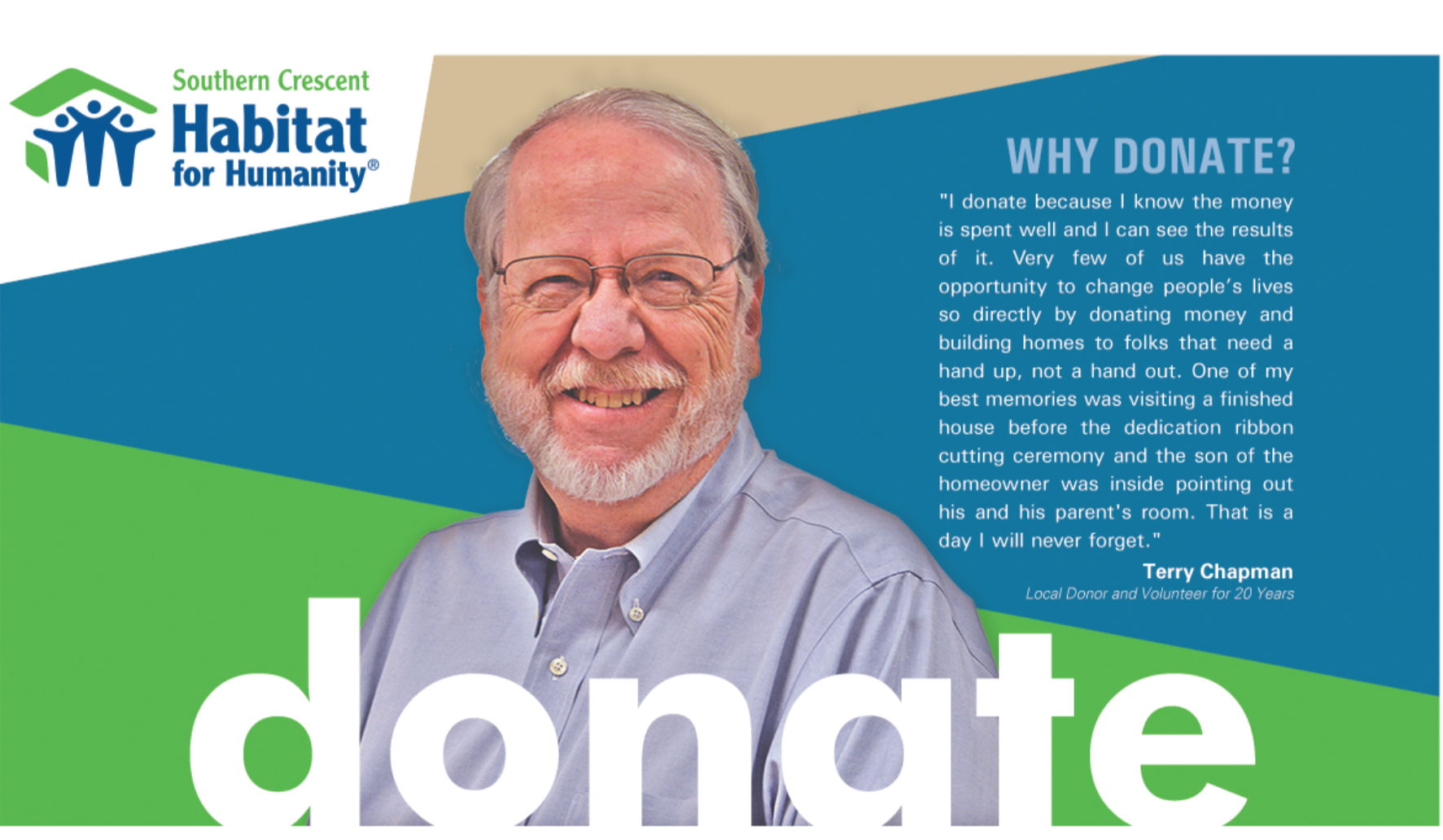 At Southern Crescent Habitat for Humanity we help low income families find opportunity, stability, and improve their futures. We help build stronger families and neighborhoods through homeowner education which includes financial literacy and by partnering with donors and volunteers to construct attractive, affordable homes and to repair existing homes.
Make a Monthly Pledge
Every donation helps us to serve more families. Make a monthly pledge of $10, $15 or $25 and receive updates about the projects that your contribution made happen.
In-Kind Donations
Gift in-kind donations include building materials such as siding, roofing and electrical supplies. Donating your labor/service for professional skills including plumbing, HVAC, and electrical work will help reduce our costs and serve more families. Another need for SCHFH is lunch donations for our volunteers as well as food for our special events/fundraisers.
Amazon Smile and Kroger Rewards
Every time you shop at smile.amazon.com, 0.5% of the price will be donated to Southern Crescent Habitat for Humanity when you select our organization. When you register your Kroger Plus Card at www.krogercommunityrewards.com and select us, we will receive a portion of the proceeds every time you shop.
Sponsor a Habitat Home
Working together on a construction site is a natural team building environment. From a Full House Sponsorship to a Team Building Day, your company, church or organization can make a significant difference by helping to build a house for a family in need. Find out more information by checking out our Sponsorship Opportunities.
Memorial Gifts
A memorial gift is a special way to provide a personal remembrance for a deceased family member or friend. An honor gift provides a meaningful way to make a donation in the name of a family member or friend who is celebrating a special occasion (birthday, anniversary, graduation, etc.).
Planned Giving
Partner with SCHFH through planned giving options including bequests, charitable gift annuities and charitable remainder trusts.
Gifts of Stocks or Bonds
This is a great way to provide for tax savings and make a generous donation to Southern Crescent Habitat for Humanity.
Cars for Homes
When you donate a car, truck, boat or RV through Cars for Homes, the net proceeds of your vehicle donation go towards serving more families in our community. Call 1-877-277-HFHI (4344) toll free or online at www.carsforhomes.org. Be sure to let them know the donation is for Southern Crescent Habitat for Humanity.
ReStore Donations
Make donations of furniture, appliances and home décor items at our ReStore located at 1465 Highway 20 West, McDonough GA 30253. Proceeds from the ReStore go towards our mission of putting an end to the poverty cycle.
To discuss any of these donations options or how you can help us serve more families, please e-mail development@schabitat.org or call 770.477.2367.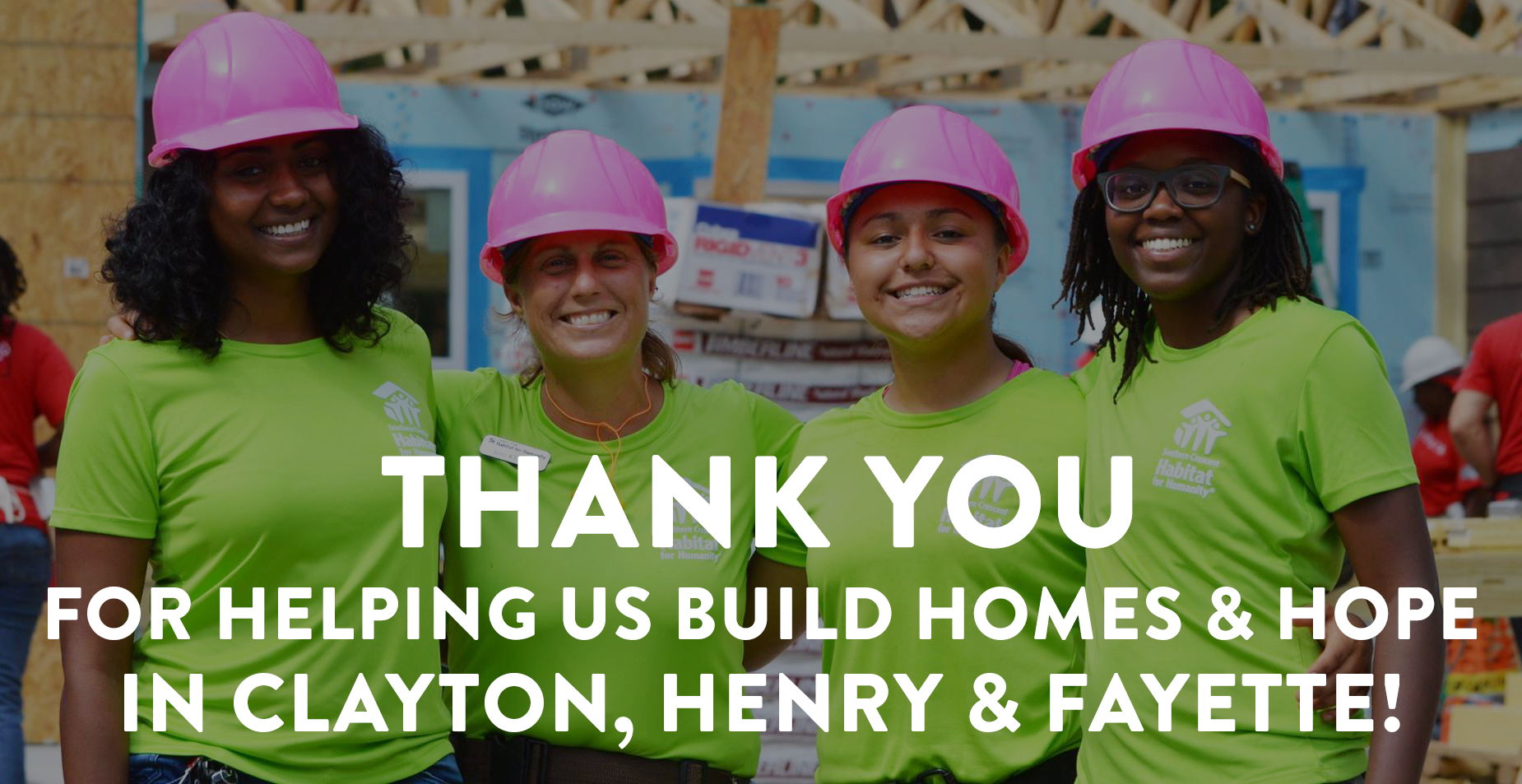 Donate via Credit Card or eCheck
Is my donation and credit card info secure?
Yes, the security and confidentiality of your information is our highest priority. We will not sell, trade or share your personal information with anyone else, nor send donor mailings on behalf of other organizations, and we will only share personal information if you have given us specific permission to do so.
Is my donation tax deductible?
Yes, we are a 501(c)(3) public charity recognized by the IRS. Your donation is tax-deductible to the fullest extent permissible by law.
How do I know that my donation was made successfully?
You will receive an emailed receipt immediately after your donation is submitted and your credit card is processed. Your donation will also show up on your bank or card statement within 1-3 business days.
Do I get a receipt?
Yes, a receipt is sent to your email inbox once your donation is processed. Please be sure to keep a copy of your receipt for tax purposes. If you select a recurring donation, you will be sent an individual receipt each period when your donation is processed.
Is my donation private?
We will not share or sell a donor's personal information with anyone else, nor send donor mailings on behalf of other organizations.